YOUR NEW PUPPY
Training must begin very early for your new puppy, their brains are like a sponge and they need to learn. At the age of 8 weeks, they will happily come when called, so now is the time to start teaching your recall, before they get too bold and start doing their own thing.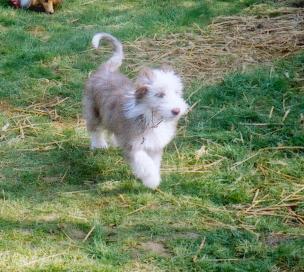 PRACTISING THE RECALL
The recall is the easiest thing to learn and your puppy will enjoy doing this, especially if you make it fun and reward them with a treat or a game.
It is very important to use the correct training methods with your puppy, don't bully or force it. All training should be fun.
If you let your puppy off the lead on their very first walk, keep calling him/her back, they will learn not to go too far from you.
Always reward with a treat or a toy. Never tell your puppy off for coming back - no mater how long it takes!!
Training not only includes obedience exercises, but MUST also include basic manners training, such as being groomed and examined, this is extremely important!! Check your puppies ears, eyes, feet and mouth.
If you do not teach your puppy to be calm and keep still, you will end up not being able to care for your puppy properly and this will cause many problems, for you and your Vet.
All training methods must be fun and reward based and your puppy must enjoy doing the training. Your puppy will work much better if he/she enjoys doing their work. This goes not only for obedience, but also agility and working trials/tests. A well trained and well mannered dog is a pleasure to own and take out. Your hard work when the puppy is young will pay off when he/she is older.
Your new puppy will be very interested in life and keen to learn, so you must keep their interest and make good use of your training sessions. Anytime your puppy pays you any attention, take this opportunity to do a little training, no matter how short.
All dogs should have basic training, no matter what breed or size they are. Many dogs end up in rescue because they have not been tajght basic manners and had basic training when young and grow up being a delinquent with no respect for anyone or anything.
A PUPPY CONCENTRATING
A puppy needs to be kept stimulated mentally as some breeds may suffer behaviour problems. Obviously you cannot spend 24 hours a day training your puppy, because you have things to do and your puppy needs to sleep, but by giving them educational toys, they will stimulate their own minds by working out what to do. Activity treat balls are excellent for this and will keep them occupied for ages.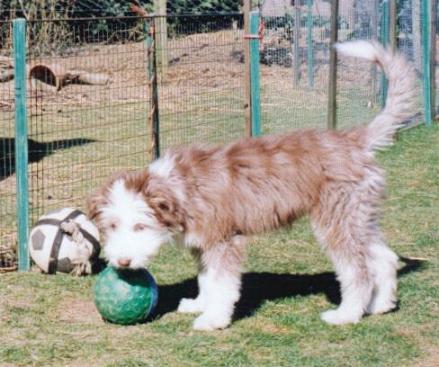 A PUPPY WITH HER ACTIVITY BALL
Some breeds are renowned for resisting any kind of restriction and will not take kindly to being tied up or restrained. Therefore it is imperative that you start collar and lead training immediately and go at the pace of your own puppy. Some will be fine at 8 or 9 weeks, others will panic and will take longer and will need more time spent with them, you must have patience with your puppy and never push them into anything, always guide them in the right direction and let them take their time. Any good and caring breeder will begin this type of training from the age of 5 weeks. Please be aware of where your puppy is coming from and make sure they have been brought up carefully and come from a breeder who knows the problems this breed can have.
Leads and Collars - although some puppies have no problems wearing them others want to go their own way and do their own thing. It just takes time and patience for you to get your puppy used to the collar and lead. Start with just wearing the collar for increasing lengths of time around the house and then add the lead once puppy is used to the collar and practice in the safety of your garden. You should be able to do that before puppy goes out for his first walk, after his/her inoculations.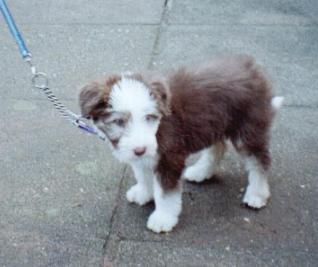 A PUPPY GETTING USED TO HER COLLAR AND LEAD
As a qualified dog trainer and qualified behaviourist myself, I have seen many dogs who have either not had the correct training or been badly trained using rough methods, these dogs take a lot of time and effort to re-train. Remember one bad experience will stay with them for life, and they forget nothing!! One mistake on your part, could lead to a multitude of problems later on, so it is very important that you take things slowly and never push your puppy too hard. Never get cross with your puppy during a training session and if your training session is not going well, finish it there and then before you get angry with your puppy.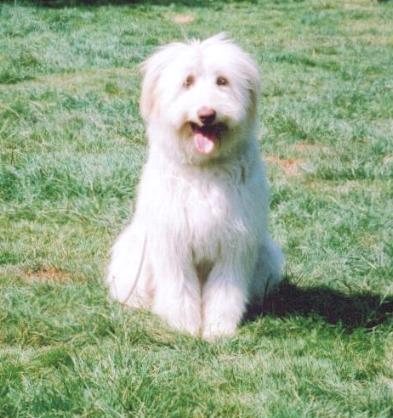 All training sessions, no matter how short or how long and no matter where they are, must be made fun and must be done in a positive way. Your puppy will become very resentful and upset and will not work for you if they are treated wrong, some dogs may not be fully trained until they are 2, maybe even 3 years old, although some will be excellent at the age of 15-18 months. It depends on the individual dog and on the breed you have chosen.
Play is a very important part of training, this is where they will learn social skills, not only with people but also with other dogs. This is very important if you are intending to take your dog yo lots of places. Your puppy needs to get used to noise, crowds, traffic, livestock and other dogs.
You will also need to get your puppy used to travelling in the car. Start with short journeys and slowly increase the distance. Try to make some journeys end with a walk or some other fun time with your puppy.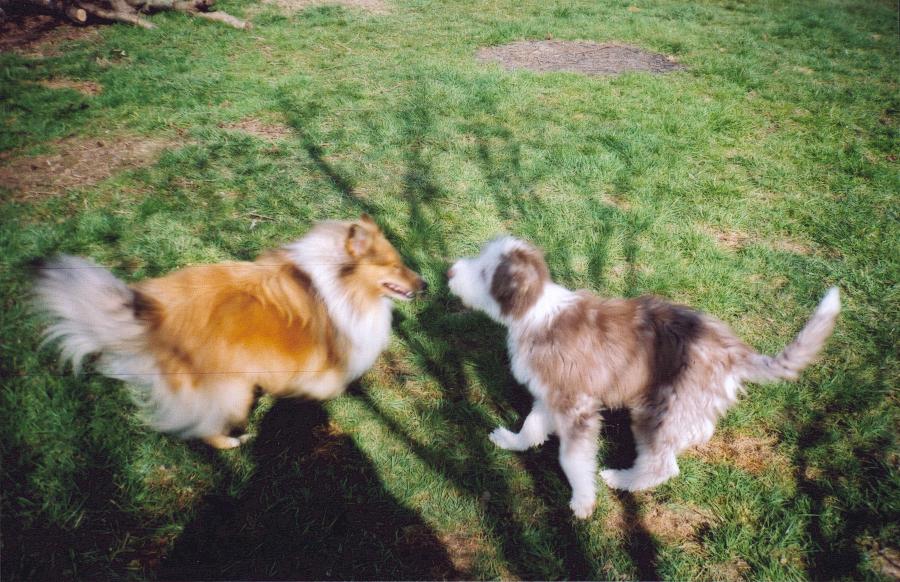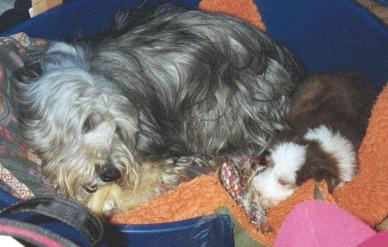 PLAYING WITH OTHER DOGS IS ESSENTIAL FOR SOCIAL SKILLS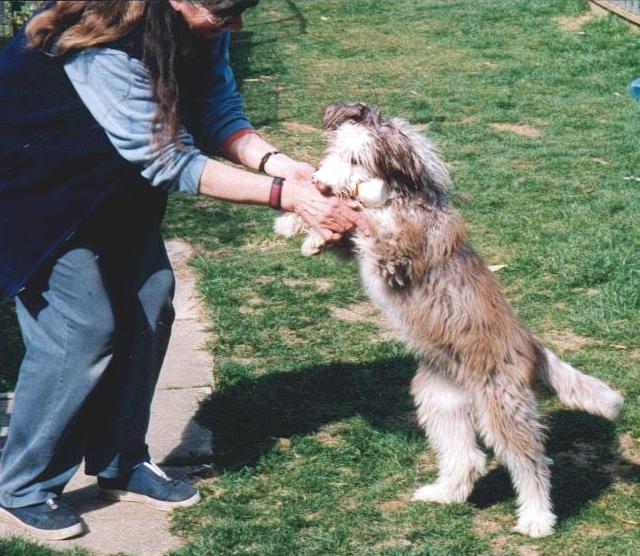 PLAYING WITH YOU WITH TOYS HELPS TO DEVELOPE A CLOSE BOND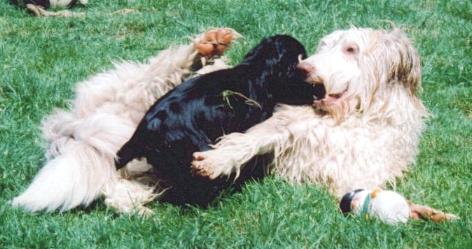 Learning to share is a very important lesson your puppy will have to learn. Not all dogs share things well with other dogs and some have problems sharing with people. This includes food, toys and sticks. They must learn as soon as possible that sharing is a good thing and that they will not lose out if they do. Take things away from your puppy and reward with a treat, then if suitable to do so, give the item back.
Try to encourage your puppy to experience as many different things as possible while still young. The most important age for the "fear period" is between 8 and 16 weeks of age. You need to ensure your puppy experiences everything that he or she may come into contact with during their life. Even the strangest of things will be useful one day, so encourage your puppy to pick up everything possible and play with everything possible, so they will not worry about anything while you are competing or just out walking. All these experiences can be incorporated in a training session, be inventive and try to keep your puppy thinking.
ENCOURAGE YOUR PUPPY TO EXPLORE AND NOT TO FEAR ANYTHING
Some dogs are not for the novice owner; they are highly intelligent and will easily take over if allowed. If these types of dogs are not trained for some kind of work, wether competition, farm or search and rescue work, they will find other things to occupy themselves, e.g. chasing your children and nipping them, barking, chasing cars and bullying other dogs. If they are not able to channel their instincts somewhere, you may find that your puppy has become a neurotic nightmare and will suffer various obsessive behaviour problems due to lack of stimulation. Please look at the original purpose your chosen breed was used for and make sure you can cope with those behaviours.
PLEASE MAKE SURE YOU ARE NOT SOMEONE WHO TAKES ON A DOG YOU CANNOT COPE WITH AND END UP BECOMING ANOTHER NAME ON THE RESCUE LIST!!
If you are intending to do agility with your puppy, this cannot be started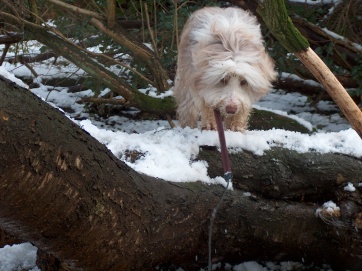 until he/she is over 18 months old, this is due to the big possibility of causing joint problems later on. Puppies bones are soft while they are young and their growth plates have not fused properly before they are at least 1 year old. The weight of a puppy jumping on these bones, can easily cause bowed legs, hip dysplasia, shoulder and joint problems, therefore care must be taken with your puppy.
There is no reason for you not to teach tunnels and weave poles. Very small jumps of under 12" can be done when your puppy is over 1 year old, but any higher should be left until 18 months of age.
Active breeds will love agility and will be very good at it.
TASSEL - BEARDED COLLIE - IN ACTION
If you have any questions on training in general please contact me and I will do my best to help.
Click here to return to the Home Page
Background from majesticartistry country backgrounds
web site designed and built by Manda Smith 10th August 2003
updated 14 October 2013
manda.smith@talk21.com