CHOOSING A PUPPY
Return to Home Page Advice for when you have your new puppy Go to my training page Go to my Puppy training page
When choosing a puppy, there are a few things you will need to remember. These are not only things about the puppy itself, the home it comes from, the way it is bought up, but also the breed itself.
Dog breeds are all different, every single breed was originally bred for a purpose and many breeds still have very strong instincts. It is therefore very important to know a little about the breed you are interested in, before you commit yourself to a puppy.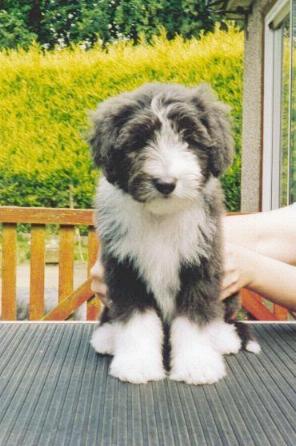 One of the reasons why dogs and puppies end up in rescue, is because their owners saw a cute puppy, didn't research the breed and found them too difficult, too lively, too noisy, too hairy or too protective.
PLEASE, PLEASE research into your chosen breed as much as possible, ask lots of questions and ask for the bad things about the breed and not just the good ones.
If you click HERE, you will find a list of popular breeds with useful information on both the good and the bad points of each one.
In order to give you a basic idea on what to look for from a breeder and in a puppy, I have written the following points to remember. I hope they are useful to you.
What to look for in a good breeder.
Never buy from anyone who cannot show you the mother of the pups. If the bitch shows no interest in the pups, she is probably not the mother.......be careful of this! You MUST be able to stroke the mother and interact with her, you will then be able to see what temperament she has. Don't buy a puppy from nervous parents, you will be letting yourself in for an awful lot of problems!
Always make sure the mother, puppies and any other dogs kept are clean, fit, healthy and well fed. Never buy from anyone who keeps their dogs in dirty conditions.
A good breeder will have a puppy pack for you to take home, remember to ask about this before you make a final decision to buy one of their puppies. The puppy pack should contain as a minimum, a book or information on the breed, some of the food the pups are eating, a diet sheet for your puppy, dates for worming/flea treatments and the dates you will need to treat again and contact details for the breeder and breed clubs.
A good breeder will explain about the breed and it's temperament, before showing you the puppies. They should also show you the adult dogs, so you can see what your puppy will end up as.
A good breeder will be happy to chat about their breed and their dogs, ask lots of questions, if the breeder does not know any answers, or is not interested, LOOK ELSEWHERE!
Never buy from anyone who's puppies or dogs are not happy to be around them, or frightened of them, they are obviously not well handled.
Always try to find a home reared litter, rather than one reared outside in a kennel, stable or barn. Home reared puppies should be better handled and already accustomed to household noises and people.
WHAT TO LOOK FOR IN A PUPPY.
If you just want a puppy for a pet, you are best choosing the puppy from the middle of the litter. By this I mean not the most dominant and not the most submissive. This one is likely to be the easiest puppy.
Do not choose one who looks very scared or hides away just because you feel sorry for it, this is likely to be a nervous puppy and may also be a nervous adult, which will cause you problems.
Sit and watch the litter, or if allowed by the breeder, sit in with the puppies and watch them. This will give you an idea of each puppies temperament and how well handled they are.

Animations and background provided by:- www.heathersanimations.com
Website created by Manda Smith 30.01.04, updated 14 November 2010